Swansea Dent Repair 
Mobile Paintless Dent Removal & Repair Experts
(PDR) Paintless Dent Removal  is a quick and cost-effective mobile car dent removal and repair technique covering the Swansea area. As the name suggests, the car dent repair is carried out without the need for filling and painting, or costly complete panel replacement or repair. Our highly trained dentmaster technicians have over 20 years experience in the art of PDR and are happy to offer help and advice.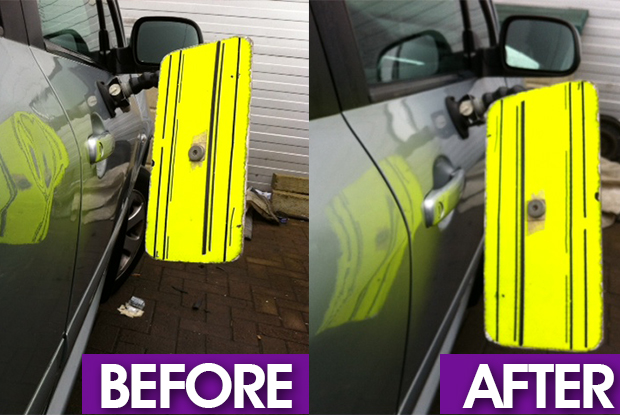 We Save You Time and Money..
Our mobile dent repair Swansea specialists remove small ding's and dents by using specialist tools and techniques that 'massages' the dents out of the damaged area. Thus, restoring your car panel so that it appears as good as new. We can save you up to 50% on normal body shop repair costs.
Paintless Dent Repair and dent removal is mainly used as a repair technique for smaller dings and panel dents where the paint has not been broken, such as minor parking and trolley dents and stone impact dents.
If a repair is possible, our technicians can normally complete the repair within one hour. As a fully mobile service, we can usually complete dent repairs at your home or place of work helping you restore the value of your vehicle for both a fraction of a conventional body shop price and no inconvenience of losing your car for days or even weeks.
We specialise in Fleet return cars sometimes saving our customers hundreds of pounds on repair costs that would have been charged for minor damage as their fleet car is inspected and returned.
Feel free to check out our latest Testimonials to see if our Swansea dent repair service can help you. We are only a phone call away, so if you need help or advice and are local to Swansea and the surrounding area just give us a call.
Call Steve now on – 07792-320692 Your local Swansea Dentmaster Repair Technician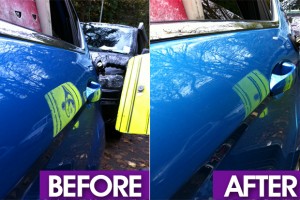 5.0 Rating From 5 Reviews.
Great job
Highly recommend!! Great job on a bumper repair, very professional service
Defy anyone to spot the repair
Did a repair on my machine cut alloys came to my house were honest before they started that as it was a machine cut they could do a repair but not exactly match the finish well iI defy anyone to spot the repair it is an excellent job would defiantly recommend
Friendly and fun service
Repaired two alloys for me. Great work carried out, friendly and fun service from the two gents and good value for money. I would definitely recommend.
Very pleased with the work
Very pleased with the work done by Carmond. He managed to come out to do the work the day after I contacted him. Disguising/repairing a cigarette burn on the back seat. Looks good as new and at a reasonable price. Would definitely recommend. Very helpful and great friendly service.
Great service
Great service, work and guys. As an accident prone driver I will definitely use them again!