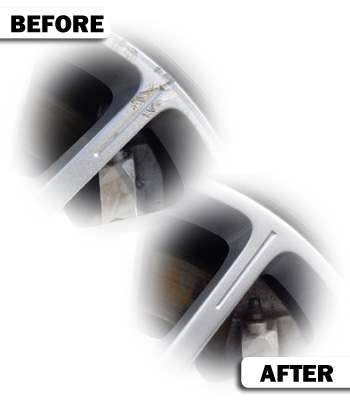 Alloy Wheel Refurbishment Swansea
Don't let "kerbed" or scratched alloy wheels spoil the appearance or the value of your car. Our mobile alloy wheel repair technicians can restore and refurbish your damaged wheels to their former glory for a fraction of the cost of a replacement wheel.
Our Customers are always delighted with the top quality mobile wheel refurbishment service we offer in and around Swansea and South Wales just read through a few of our Testimonials to find out why.
If you have scuffed or "kerbed" your wheels and are local to Swansea or  the surrounding area just give us a call for a free quote or advice. Our fully mobile alloy wheel refurbishment service provides repair and reconditioning of alloy's to both private and trade customers including Many Swansea main dealers, Insurance companies and Fleet car owners.
We can refurbish your damaged wheels at your convenience either at your place of work or home usually all we need is access to a power point and to be able to park near to your car.
We can save you both time and money with our local alloy wheel repair or refurbishment service.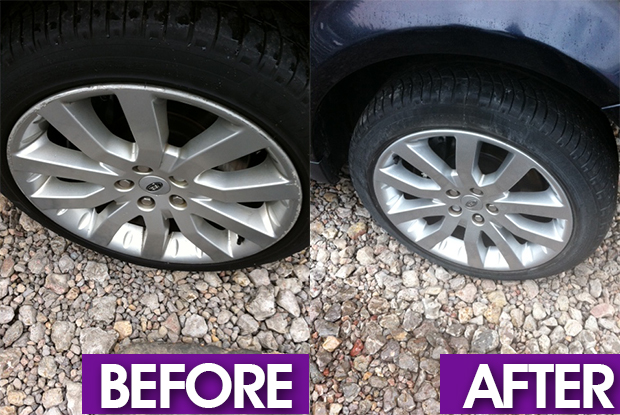 Please note we need a flat level area to work with enough space to park a van near and access to a power point to carry out our alloy wheel repairs Swansea if in any doubt just give us a call on one of the below numbers and we will try our best to Help.
Specialists in alloy wheel repairs
Fully Mobile Service covering Swansea and South Wales
Competitive prices
Friendly reliable personnel
Fast, professional and cost-effective
Improve the look of your vehicle and increase its value.
Simply use the form on the right to contact us or alternatively phone Steve on 07792-320692 or 07977-514324
Alloy Wheel Refurbishment Swansea – Over 20 Years experience in Car SMART Repair. We can save you money.
5.0 Rating From 5 Reviews.
Very pleased with the work
Very pleased with the work done by Carmond. He managed to come out to do the work the day after I contacted him. Disguising/repairing a cigarette burn on the back seat. Looks good as new and at a reasonable price. Would definitely recommend. Very helpful and great friendly service.
Great job
Highly recommend!! Great job on a bumper repair, very professional service
Great service
Great service, work and guys. As an accident prone driver I will definitely use them again!
Friendly and fun service
Repaired two alloys for me. Great work carried out, friendly and fun service from the two gents and good value for money. I would definitely recommend.
Defy anyone to spot the repair
Did a repair on my machine cut alloys came to my house were honest before they started that as it was a machine cut they could do a repair but not exactly match the finish well iI defy anyone to spot the repair it is an excellent job would defiantly recommend